Use of Geographical Information System (GIS) data is now a common element required as part of environmental studies to illustrate current baseline conditions, and possible, or actual changes over time, and to provide location data, or spatial analysis. GIS is a tool that provides a graphical view of data to help decision makers answer questions and solve problems by interpreting and analyzing the data.
EES Consulting has developed a variety of GIS data and maps for our clients to assist with FERC licensing and environmental permitting activities. We have the capability of integrating CAD data as well as GPS data into GIS. EES Consulting staff is well versed at geographic data creation, mobile collection, and analyzing and displaying data with cartographic design. Resource specific maps have been created for a number of features including water quality monitoring sites, stream gage location, fish use location, upland and aquatic vegetation, land ownership parcels and land use, erosion monitoring, shoreline management, recreation site maps and project boundary maps.
Pend Oreille PUD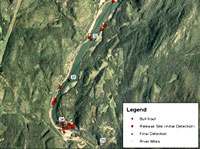 As part of EES Consulting's relicensing services for the Box Canyon Hydroelectric Project, EES Consulting developed a GIS database for the entire project that included a variety of resource areas such as fisheries, wildlife, vegetation, geological and recreation resources. Existing Project Boundary maps were updated to meet current FERC regulations and a Microsoft Access database was developed of adjoining property owners. Following issuance of the new license, GIS maps were updated for use in compliance management plans and annual reports.
Energy Northwest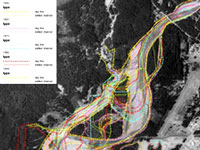 EES Consulting prepared GIS mapping of the Packwood Lake Hydroelectric Project as part of the environmental studies during project relicensing. Existing Exhibit F and G drawings were digitized and updated to current FERC standards for use in Pre-Application Document and Final License Application. GIS maps were also created for the 23 different studies that were completed for the license application that included fisheries, wildlife, botanical, recreation, land use and geological resources.
Lewis County PUD No. 1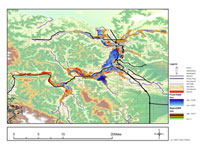 As part of the Chehalis River Flood Control Studies, EES Consulting created GIS maps of potential water storage project sites. FEMA's HAZUS GIS program was utilized to provide flood damage estimates for floods of 10, 50, 100, and 500 year returns. The results were used in a cost benefit analysis to identify if the water storage sites would be beneficial at reducing flooding in the I-5 corridor in the Chehalis/Centralia area of Washington State.