EES Consulting offers comprehensive electric system planning services. Electric system condition assessment reviews are typically performed early in the planning process, to discover and evaluate any priority upgrades. EES Consulting prepares Capital Improvement and Master Plan documents to help utilities formulate and prioritize system upgrades in response to load growth, aging infrastructure, or reliability issues. The preparation of such plans typically includes system modeling and analyses. Such studies are performed using computerized system models, which also facilitate review of electric system performance in terms of system contingencies, load growth, and efficiency.
System analyses may include load flow and short circuit studies to support system upgrade evaluations, equipment selection, protective device coordination, as well as arc flash energy hazard evaluations to determine personal protective equipment (PPE) requirements and produce warning labels for equipment. In addition, EES Consulting can perform analysis targeting distribution system optimization and energy efficiency, including volt/VAR optimization, capacitor and regulator placement, economic conductor selection, and more. EES Consulting also has experience with specialty studies such as duct bank thermal analysis, and cable pulling force limits.
Financial analyses are often performed before the planning studies are finalized, to evaluate financing options for recommended projects and to determine any potential impact on rates.
Skamania PUD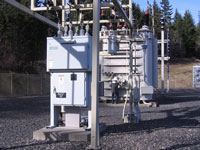 EES Consulting was retained in March 2012 to help formulate a Capital Improvement Plan for the District's electric system. The services included field reviews of selected parts of the electric system, with a strong focus on the District's five substations, and subsequent formulation of plans and cost estimates for upgrading of substations and distribution facilities. A short-term plan, covering the first five years, and a long-range plan covering a 20-year planning horizon were prepared. EES Consulting was also engaged to perform economic and financial analyses to evaluate the plan's impact on finances and rates. The plans were presented at two District Commission public meetings and adjustments were made to help the District find the right balance between system upgrade investments and rate impacts.