EES Consulting has extensive experience with the design of control and protection systems for substations and hydroelectric plants. This includes a variety of protective relaying systems for transmission lines, buses, feeders, capacitors, generators, transformers, circuit breakers, and other equipment elements that comprise the power system. Part of our specialized experience includes communication assisted transfer tripping schemes, circuit breaker failure protection, arc flash protection and control circuits design.
Our services include design of new installations, as well as retrofitting and upgrading existing obsolete or non-supported devices and systems. EES also provides low voltage control system design, such as motor controls.
EES Consulting typically generates system one line diagrams, control logic diagrams, ac and dc schematic diagrams, wiring diagrams, and coordinated overall equipment configuration and selection. We are familiar with and have worked with equipment from many different manufacturers, including Schweitzer Engineering Laboratories (SEL), Basler, GE, Beckwith and ABB.
Snohomish County PUD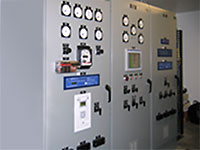 EES Consulting is currently providing engineering design for two small hydroelectric generating plants, Calligan and Hancock, each with an installed generating capacity of about 7 MW. These services include detail design of intakes, penstocks, powerhouses, switchyards and electrical interconnections to the power grid. The projects are scheduled for completion in 2015. Further, EES Consulting recently completed detail design and construction support for another small hydroelectric plant, Youngs Creek, (about 7 MW capacity) for the District, which has successfully been on line since October, 2011.
U.S. Navy/EMCE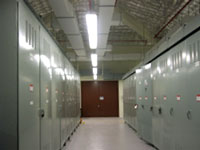 EES Consulting was retained for the design of substation equipment at Andersen Air Force Base, Guam, consisting of 13.8 kV and 34.5 kV switchgear, power transformers, capacitor banks, bus duct and SCADA systems to replace the existing outdoor substation installed in the early 1960s.  The new switchgear was installed in a new hardened building to shield from inclement Guam weather, including typhoons and high winds. The 13.8-kV switchgear consisted of 14 cubicles with sectionalized buses with tie breaker. The 34.5-kV switchgear consisted of 10 cubicles with sectionalized buses with tie breaker and receives power from Guam Power Authority's 34.5 kV transmission lines. Protective relays are all Schweitzer multifunction relays. The SCADA system consisted of SEL-3354 interfaced to SEL-2032 communication processors.
Guam Power Authority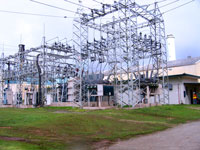 EES Consulting is currently engaged as the medium voltage switchgear design consultant by the  contractor responsible for the design of the 13.8-kV and 34.5 kV switchgear for Dededo Substation on Guam. The work includes preparation of switchgear procurement specifications, including control and protection system design, as well as technical assistance during manufacturing and installation of the equipment.
City and Borough of Sitka
EES Consulting is currently supporting the expansion of the Blue Lake Hydroelectric project with design services of selected project elements, including generator switchgear with associated control and protection systems, and switchyard expansion, including procurement of generator step-up power transformers. The work includes preparation of drawings and specifications, coordination between multiple vendors, review of shop drawings, factory witness testing and ultimately assistance during construction and commissioning.