EES Consulting provides foundation designs according to client preferences, site conditions and constructability. Typical foundation types include drilled piers, spread footings, driven piles and slab on grade. Computer software is used to aid the design of drilled pier foundations. Geotechnical explorations are usually obtained based on EES's specifications.
EES Consulting also provides detail design of steel support structures, including detailed fabrication drawings. If dictated by client preference or project requirements, only structure loadings and basic dimensions may be provided. For dead-end structures we typically provide loading trees, dimensions and attachment requirements, leaving detail design to the structure fabricator. We also provide coordination between equipment procurement, such as disconnect switches and instrument transformers, by adjusting dimensions of the steel structures during shop drawing review to match the equipment to be supported.
Grays Harbor PUD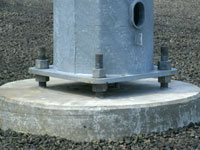 EES Consulting was retained to provide engineering design and permitting support for replacement of an existing substation with the New Central Park 115 – 12.47kV substation consisting of two 115-kV transmission lines, ultimately two 15/20/25 MVA power transformers and two lineups of 15-kV metal-clad switchgear. EES Consulting prepared site development, retaining wall design, oil containment and drainage design, fencing design, and foundation design for a Public Works Contract, and steel support structure design, bus and electrical assembly design, conduit design and ground grid design for a District Work Package. We also prepared permitting applications and accompanying drawings for the necessary environmental and construction permits.