EES Consulting designs secondary oil containment systems to comply with EPA regulations and customer preferences and practices. Such systems may include oil/water separator systems, controlled outlet systems or pure manual containment systems.
EPA regulations continue to change and evolve, and there are also specific state regulations that must be observed. Even if in some cases it could be sufficient to exclude a secondary oil containment system when constructing a new substation and simply rely on having a current SPCC ("Spill Prevention, Control and Countermeasure") plan, we find that almost exclusively owners elect to construct some form of secondary oil containment around power transformers. Some owners may also decide to install secondary oil containment facilities in existing substations, by reasoning that the cost of cleaning up an oil spill in an unprotected substation could exceed the cost of secondary containment installation.
There are different approaches to the design concepts of secondary containment systems, such as an individual pit around the transformer foundation sized to hold all or a portion of the transformer oil volume, a limited volume containment area around the transformer, or a lined area around the transformer, with piped drainage to an underground storage tank. The individual pit approach may be economical in a substation with just one transformer, while a lined area or a limited storage catchment area with a common underground storage tank might be the best choice in a station with multiple power transformers.
Grays Harbor PUD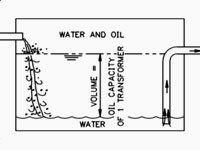 EES Consulting was retained in 2012 to provide engineering design and permitting support for replacement of an existing substation with the New Central Park 115 – 12.47kV substation consisting of two 115-kV transmission lines, ultimately two 15/20/25 MVA power transformers and two lineups of 15-kV metal-clad switchgear. EES Consulting prepared site development, retaining wall design, oil containment and drainage design, fencing and foundation design for a Public Works Contract, and steel support structure design, bus and electrical assembly design, conduit design and ground grid design for a District Work Package. We also prepared permitting applications and accompanying drawings for the necessary environmental and construction permits.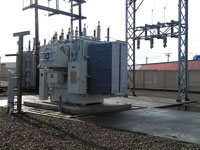 EES Consulting was retained to also design an oil containment system in the existing State Street substation. The system included a curb wall around the transformer area and a "petro plug" type oil stop system in the drain outlet tied into the City's drainage system.