EES Consulting offers comprehensive civil engineering capabilities for site, drainage and fencing designs. This includes estimates of cut/fill quantities and design of erosion control measures. We utilize software programs for cut/fill estimates, and surveying data is usually obtained from others based on EES's surveying specifications. Our experience includes design of CMU-type perimeter walls for screening and aesthetically pleasing appearance of the substation, as well as conventional chain link perimeter fencing. Depending on the site topography, retaining walls may need to be included in the site development design.
Grays Harbor PUD
EES Consulting was retained to provide engineering design and permitting support for replacement of an existing substation with the New Central Park 115 – 12.47kV substation consisting of two 115-kV transmission lines, ultimately two 15/20/25 MVA power transformers and two lineups of 15-kV metal-clad switchgear. EES Consulting prepared site development, retaining wall design, oil containment and drainage design, fencing design, and foundation design for a Public Works Contract, and steel support structure design, bus and electrical assembly design, conduit design and ground grid design for a District Work Package. We also prepared permitting applications and accompanying drawings for the necessary environmental and construction permits.
Snohomish County PUD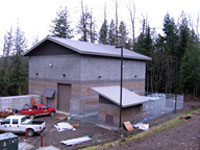 EES Consulting is currently providing engineering design for two small hydroelectric generating plants, Calligan and Hancock, each with an installed generating capacity of about 7 MW. These services include detail design of intakes, penstocks, powerhouses, switchyards and electrical interconnections to the power grid. The projects are scheduled for completion in 2015. Further, EES Consulting recently completed detail design and construction support for another small hydroelectric plant, Youngs Creek, (about 7 MW capacity) for the District, which has successfully been on line since October, 2011.