EES Consulting provides equipment procurement specifications or contract documents, which is a desired and recommended practice for large scale construction projects where equipment selection and quality control could be difficult if it is provided by the general contractor.
Our experience includes hydroelectric water-to-wire equipment procurement packages, turn-key substation procurement documents, and individual equipment procurement documents. We have specified generators, power transformers, medium voltage switchgear, motor control centers, circuit breakers, high voltage disconnect switches, instrument transformers, capacitor banks, prefabricated control and relay enclosures, as well as control and protection panels.
A typical contract document would include a complete set of technical specifications and commercial terms and conditions, along with bidding information and descriptive drawings. In cases where the client does not have a standard front end specification, EES Consulting uses EJCDC's front end, including its terms and conditions.
Snohomish County PUD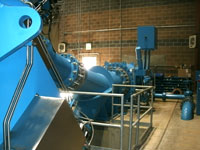 EES Consulting is currently providing engineering design for two small hydroelectric generating plants, Calligan and Hancock, each with an installed generating capacity of about 7 MW. These services include detail design of intakes, penstocks, powerhouses, switchyards and electrical interconnections to the power grid. The projects are scheduled for completion in 2015. Further, EES Consulting recently completed detail design and construction support for another small hydroelectric plant, Youngs Creek, (about 7 MW capacity) for the District, which has successfully been on line since October, 2011.
Pend Oreille County PUD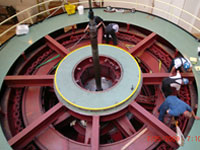 The Box Canyon Hydroelectric Project is owned by the Pend Oreille County Public Utility District (District). The project dates back to 1955 and has four 15 MW vertical Kaplan turbines directly connected to synchronous generators. EES Consulting was retained by the District to provide assistance for upgrade and rehabilitation of the turbine-generator equipment. EES Consulting developed detailed specifications, drawings, and bid documents. Upgrades included a fish-friendly Kaplan turbine design and unit rewinds, new controls, protection and SCADA systems, and balance-of-plant systems. The first upgraded unit was commissioned in 2011, with the remaining three units scheduled for upgrade for the next three years.
District of Lake Country, BC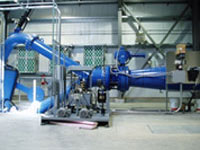 EES Consulting was retained to develop the final conceptual design, develop plans and specifications to support a turbine and generator supply contract, a contract for purchase of all electrical and controls equipment, and the construction contract to build the powerhouse and tailrace, install all the equipment and start up the Eldorado Small Hydro Project. Revenue metering and SCADA system was designed to meet BC Hydro requirements. A solar-powered 900 MHz spread spectrum radio is used to transmit water level signals from intake to the powerhouse. EES Consulting also provided construction monitoring and plant commissioning services. The Project began power generation in April 2009.
U. S. Navy and Air Force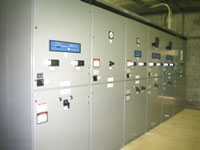 EES Consulting was retained as a switchgear design consultant by the design-build contractor for the replacement of 13.8 kV indoor switchgear equipment, including DC station battery systems and associated electrical renovation for Agana Substation and at Navy Hospital Complex in Guam. The work included site investigations and preparation of procurement documents for the metal-clad switchgear and associated equipment.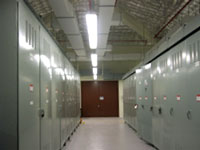 EES Consulting was retained for the design of substation equipment at Andersen Air Force Base, Guam, consisting of 13.8 kV and 34.5 kV switchgear, power transformers, capacitor banks, bus duct and SCADA systems to replace the existing outdoor substation installed in the early 1960s.  The new switchgear was installed in a new hardened building to shield from inclement Guam weather, including typhoons and high winds. The 13.8-kV switchgear consisted of 14 cubicles with sectionalized buses with tie breaker. The 34.5-kV switchgear consisted of 10 cubicles with sectionalized buses with tie breaker and receives power from Guam Power Authority's 34.5 kV transmission lines. Protective relays are all Schweitzer multifunction relays. The SCADA system consisted of SEL-3354 interfaced to SEL-2032 communication processors.
City and Borough of Sitka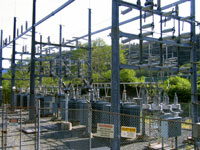 EES Consulting is currently supporting the expansion of the Blue Lake Hydroelectric project with design services of selected project elements, including generator switchgear with associated control and protection systems, and switchyard expansion, including procurement of generator step-up power transformers. The work includes preparation of drawings and specifications, coordination between multiple vendors, review of shop drawings, factory witness testing and ultimately assistance during construction and commissioning.
Guam Power Authority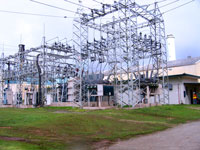 EES Consulting is currently engaged as the medium voltage switchgear design consultant by the contractor responsible for designing the 13.8-kV and 34.5-kV switchgear for Dededo Substation on Guam. The work includes preparation of switchgear procurement specifications, and technical assistance during manufacturing and installation of the equipment.