EES Consulting offers services of experienced engineers to perform the role of the Owner's Engineer. In this capacity, EES Consulting assists the Owner with a multitude of services from project conceptual design to project completion, or with targeted services in support of specific project elements, such as preparation of bidding documents and contracting assistance. A representative example of this role is the contract documents EES generates for the "water-to-wire" equipment package for hydroelectric projects. EES assumes the responsibility for the project bid documents and technical specifications for electrical and hydraulic equipment as well as design of civil and structural elements of the project.
Further, if requested, EES provides bid evaluation and recommendation, as well as all subsequent support services associated with the project implementation. These services can include construction observation, review of contractor's submittals, witnessing of testing, review of change order requests and payment requests, responding to RFIs from the contractor, and assisting in project commissioning. When required, EES Consulting will provide coordination between multiple vendors to ensure that equipment and systems from the various vendors will fit and work together.
Snohomish County PUD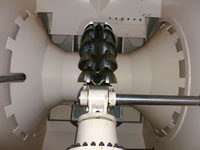 EES Consulting is currently providing engineering design for two small hydroelectric generating plants, Calligan and Hancock, each with an installed generating capacity of about 7 MW. These services include preparation of water-to-wire equipment bidding documents and detail design of civil and electrical project features. The projects are scheduled for completion in 2015. Further, EES Consulting recently completed similar services for the District for another small hydroelectric plant, Youngs Creek, (about 7 MW capacity), which has successfully been on line since October, 2011.