In today's market there are many drivers for the need for new resources including retail load growth, reserve margin requirements, aging resources, and Renewable Portfolio Standards. Advancements in resource technologies may present a range of opportunities to install new or retrofitted facilities that are market competitive and environmentally acceptable. EES Consulting has assisted clients in exploring, analyzing and developing both renewable and non-renewable resources.
EES Consulting can assess current market conditions and future market trends through our extensive network of industry contacts and our access to the most recent transaction information. We are in daily contact with decision makers at utilities concerning developing market trends. We actively participate in industry forums, conferences and roundtable discussions.
This broad network of industry contacts and experience base allows us to evaluate and recommend alternative resource strategies. Resource strategies may range from the renegotiation of existing energy contracts to the acquisition or construction of new resources to the merger or acquisition of complementary or competing businesses
Simpson Longview Mill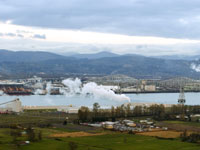 EES Consulting was asked to review the options for a new boiler/turbine combination at Simpson's Longview mill. EES Consulting considered five different boiler/turbine combinations for this study. Net income from market sales was calculated by subtracting annual debt service and operating costs associated with the purchase of the boilers/turbines from estimated Mid-C market revenues. The revenues earned from the sale of generation at the market were reduced by the cost of transmission to transport plant output to the market. In order to test the sensitivity of net income to key assumptions, results were calculated using different assumptions.
Clark Public Utilities (CPU)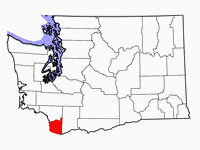 Clark Public Utilities' (CPU's) River Road Generating Plant has an average annual capacity of 248 MW and supplies 30 to 40 percent of CPU's energy requirements. The plant, a combined cycle combustion turbine, began commercial operation in December 1997. Prior to commercial operation of the plant, EES Consulting provided engineering and economic analysis to help CPU select from a pool of competitive bidders to design, procure, construct, and operate the plant. EES Consulting performed on-site construction management services and an evaluation to aid in the selection of a provider of on-going operating and maintenance services. EES Consulting also acted as the CPU's consultant related to transmission-interconnection and integration of the plant's generation into the control area. In addition, EES provides on-going support to the CPU related to the Project.